WOW! October is really here now ~ I can hardly believe how fast the year has gone! I'm gearing up for Thanksgiving and Christmas now ~ making tons of newly designed embellishments for the 2007 holiday season so watch my auctions this month! I hope you are enjoying my new selling format ~ I've certainly found it to be much easier myself.

My ebay store contains all seasonal items, with the exception of special requests by my customers....and the website contains ALL of my available designs for the scrapper that needs to shop a full line of products, not just seasonal items. I'm making handmade cards now just as quickly as I can so keep an eye out for those ~ they go fast! This week I will add a couple of fall and Thanksgiving cards.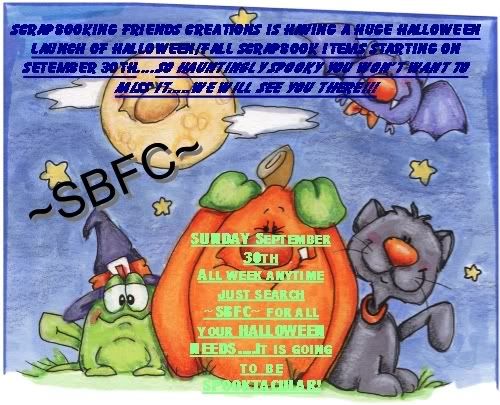 WHAT'S NEW?


This issue I would like to introduce another artist from the SBFC design group....our founder and leader Tammy! In case you haven't noticed, there is now a trend on ebay of artists forming selling/design groups to sell their creations and promote each other. Some groups are more competitive...some more 'rules' based...but ours? Ours is just plain fun! We didn't start out as a 'selling' group ~ just a group of ladies who enjoyed discussing our arts and families and lives with each other. I think this really set the tone for our group when we did take it to the 'design group' level. Everyone is so friendly, happy and easy to get along with. That really translates over into our ebay businesses and how we treat each other and our customers. I hope you will check out our products this week! We are having a super fun HALLOWEEN AUCTION CHALLENGE where each of the participating artists are listing some brand new Halloween themed auctions starting in the first week of October! Just click on the logo above to see what we have to offer! There is sure to be something for everyone!

INTRODUCING: SCRAPPINITUP4U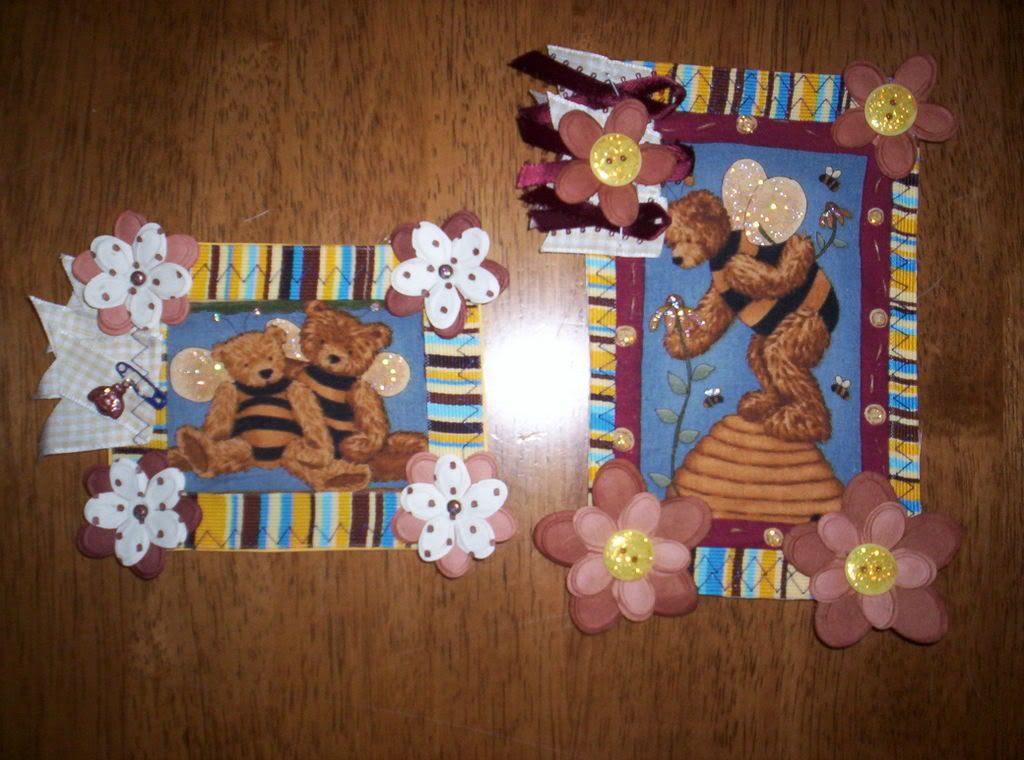 HI! My name is Tammy or Scrappinitup4u on ebay. I am the founder and leader of SBFC a scrapbooking group on Ebay....also known as SCRAPBOOKING FRIENDS CREATIONS. This group, let me tell you, "IT HAS TALENT". I am always amazed at the wonderful new things that these ladies come up with! Okay a bit about me: I am a stay-at-home WORKING Mom of 3 kids and one new BOXER PUPPY named Ava. My oldest, 11, is in school and the other two, ages 2 and 4 yrs. and the puppy are at home with me. I have had a store on ebay called Scrappinitup's Scraps & Piecings for a little over 2 years now. I have always made tear bears and I love them. I can do any type of bear you want, just ask!

ALSO you can view my store by typing www.tearingbears.com into your browser....Please stop in sometimes and see what all I have....


I would also like to INTRODUCE a new item that I have been working on. They are FABRIC TAGS for your scrapbooks or cards...the ones that I am starting off with have bears on them "of course" but are so neat....they are made of fabric, cardstock, and they are sewn on my machine and then embellished with a little bit of anything...flowers, buttons and so much more...i love them and I know you will too! Stop in and check them out!

My ultimate FAVORITE scrapbooking product on the market right now is STICKLES by Ranger. I absolutely love it and use it on anything and everything. This is on my list of GOTTA HAVES for scrapooking!!

Thanks so much and have a wonderful scrapbooking day!
Tammy/scrappinitup4u


CRAFT OF THE MONTH!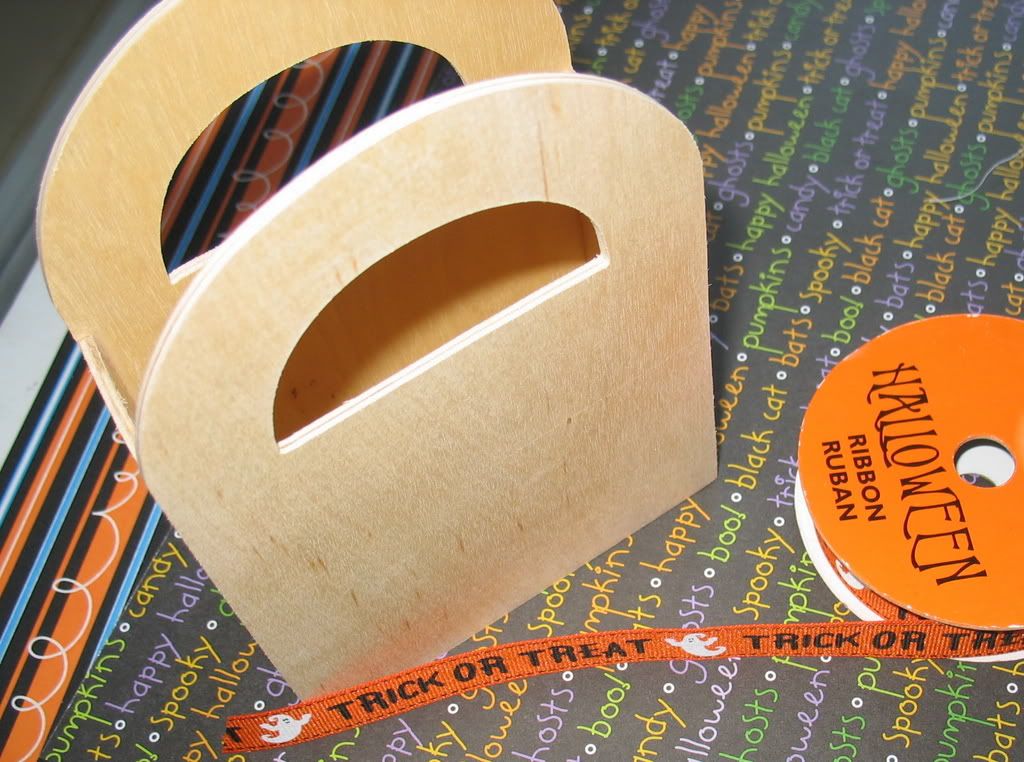 Make a wondeful and inexpensive altered box to use as a hostess gift, teacher gift, an mini-album box or seasonal decoration! Start now on your Christmas themed teacher gifts ~ this also makes a wondeful & decorative way to store your smaller handmade greeting cards. I hope you will enjoy this project and send me your pictures. I'd love to see your project when it is complete!

TO MAKE THIS HALLOWEEN THEMED BOX:

1 small wooden box (see pic below)
Halloween themed scrapbook paper
plenty of ribbons to match
3 orange mulberry flowers
3 orange buttons
white Bazzill Cardstock
Sizzix Original ghosts#2 655006
black 24 guage craft wire
pliers
Modge Podge
scissors
adhesive of choice
YOU CAN GET THE PATTERNS FOR THE PUMPKIN AND FOR THE TEAR BEAR FROM PREVIOUS ISSUES OF THIS NEWSLETTER


1. Trace each side of the box onto the back of the Halloween themed paper and cut it out. You will cover the handles with ribbon so you can choose to cut the paper square so that it only covers up to the base of the handles if you like.
2. Use modge-podge to glue these papers to the box.
3. When the papers are completely dry, use the fine sandpaper to sand the edges of the paper to be even with the corners of the box.
4. Use your ink pad and paper towel to lightly ink over the areas that you have sanded down.
5. Use provided pattern to make your peek-a-boo tear bear.
6. Use provided pattern to make your cardstock pumpkin.
7. Cut your sizzix ghost from the white cardstock paper. I lightly inked the edges of the ghost.
8. Using the pliers, cut the wire and create 'swirlies' and apply them to the backs of the ghost and pumpkin to create the paper piecing as it is shown below.
9. Glue your paper piecing to the front of the box.
10. Use the flowers and buttons and extra ribbon to embellish the back of the box.
11. Cut the ribbons into 5 inch strips. Wrap and tie each strip around each handle of the box until the desired effect is achieved.

Now you can fill your box with notecards or candy for a neat gift and display item. OR if you don't have time to make it yourself....Please check out my auctions this week and pick this one up! I will fill it with a wonderful HALLOWEEN hanging album to compliment your fall/Halloween decor. AND as always, you may request custom boxes too :)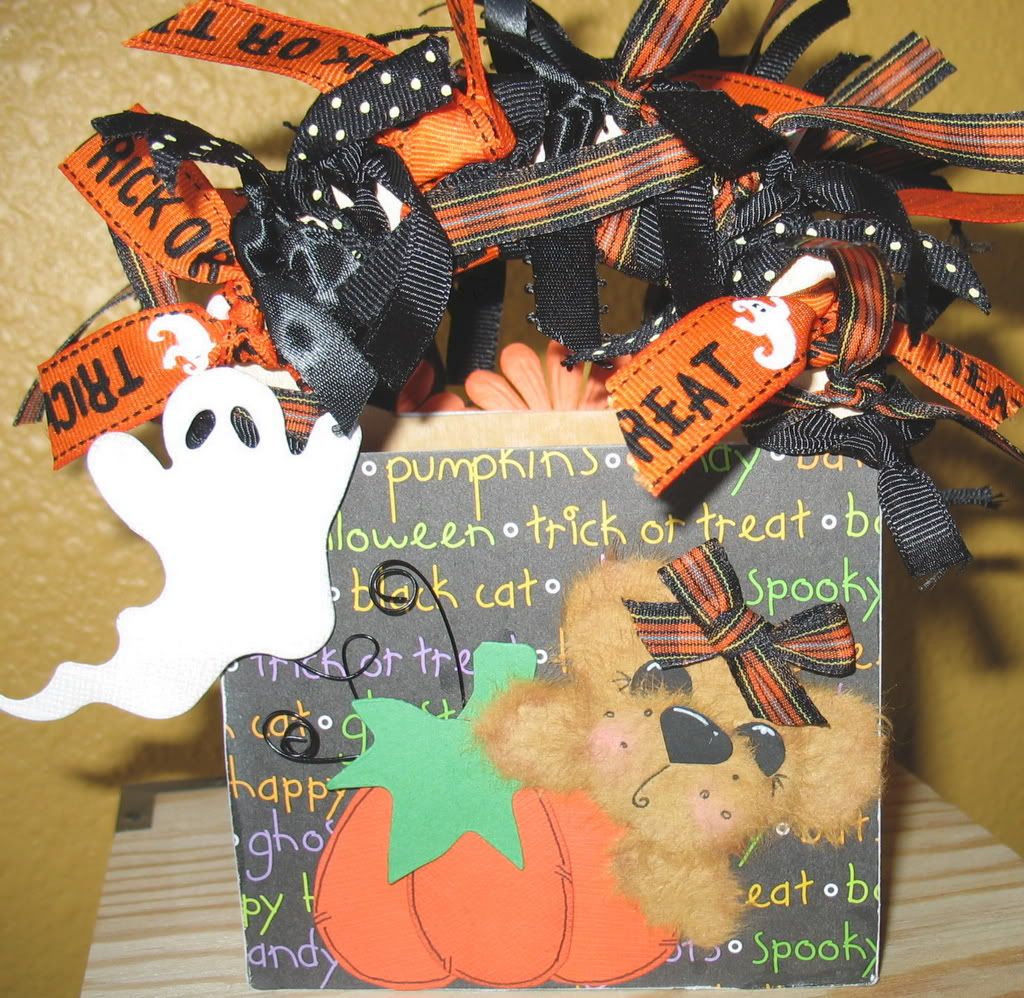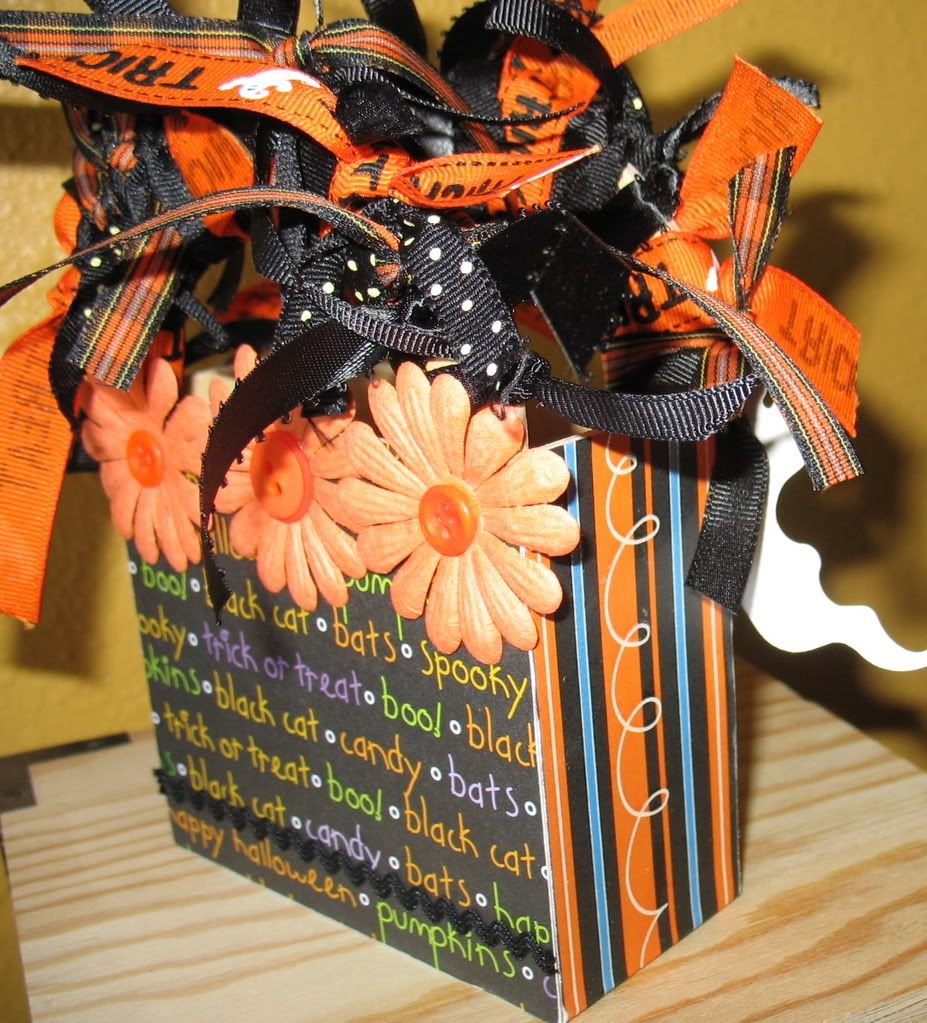 THANKS FOR LOOKING ONCE AGAIN AND I HOPE THAT YOU WILL ENJOY THE PROJECTS IN THESE NEWSLETTERS. I TRY TO BUILD LARGER PROJECTS OFF OF THE SMALLER INDIVIDUAL TECHNIQUES INCLUDED EACH MONTH IN THESE NEWSLETTERS...FEEL FREE TO LOOK AT THE ARCHIVED NEWSLETTERS IN MY WEBSITE:
WWW.KRITTERKREATIONS.COM